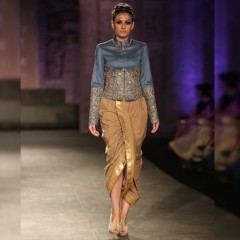 Our dress is our identity.
Modesty has had different definitions over time and in different regions and communities. It was not always about covering your face and body and in many respects India's hot climate led the way. People just did what was convenient.
Throughout India's history of contact with different cultures - with Greek, Roman, Arab and Chinese influences coming in - fashions and ideas began to change.
In India it was important for a woman to cover her body with a draped fabric here no matter what is underneath. In India, unlike in Britain, there are no written codes of conduct or sumptuary laws about what should be worn. What was considered suitable was spread through word of mouth.
So today's guardians of the hemline - who no doubt believe they are safeguarding women by prescribing what women should wear - are following in the footsteps of older political overlords.Indian women now are much freer to do what they want, yet we see dress codes being set and women condemned for what they wear. Some people even make an association between clothing and rape. These people don't understand that ideas of decency are constantly changing and rape is not a consequence of what women wear but of how certain men think.
Indian fashion has undergone significant transformation through the decades. Nevertheless, with changing times, even the most traditional apparels have been modified to hold an urban look without compromising on tradition. 
Following India's independence in 1947, as the country began to create its own identity, its citizen, especially the women, began their very own transformation that eventually set the standards of Indian fashion.
Whether it is the versatile saree, the humble salwar kameez, or the Indo-western fusion of wearing kurta with jeans, many Indian woman have managed to adapt various trends in fashionable clothing without compromising on the beauty of all things Indian. However, one should know that fashion is ever-changing, and while some styles manage to become timeless classics, other trends only enjoy a brief hype before they die down. Nevertheless, the fashion industry in India is constantly transforming and growing, irrespective of such trends.
The Indian fashion industry has grown leaps and bounds over the years with rising western influence, and changing tastes and preferences of consumers. India is the second largest exporter of textiles and clothing in the world. The Indian fashion market also owes its transformation to some extremely talented Indian fashion designers who have made their mark both in India and globally with their unique style and creations.
The market for women's fashion in India is probably the most lucrative in terms of variety and scope. Even international fashion houses and brands have begun to focus on the immense potential for growth in this segment. Some have even gained acceptance and brand loyalty among the millennial female population. However, popular brands are not the only ones driving the growth of India's fashion industry.
Following the rise of Internet and smartphone usage, more women are now able to stay au courant of latest fashion trends, and have become smart consumers who know what they want when it comes to fashion. 'Unique, chic, personal and bold' is the new style statement, and Indian women confidently demonstrate these traits with what they wear. Irrespective of how Indian women choose to dress, one thing is quite clear – they are smart, confident, and independent individuals who believe they can achieve anything in life, and what they wear definitely reflects that. 
Fashion is all about  style, elegance, and perfection.